WHAT WE DO:
NeighborWorks Alaska Supportive Housing provides safe and stable housing opportunities to chronic and literally homeless individuals and families with disabilities through Housing and Urban Development (HUD) and State-funded rental assistance grants. We provide both Conventional and Intensive Housing Support (case management) to clients on the Resources and Initiatives to Support and Empower (RISE), Sponsor-based Rental Assistance (SRA), CV-Transitions, and Forest Park Optional Relocation Program. Tenant-Based Rental Assistance refers clients to community providers for case management services.
 HISTORY:
NWAK began administering the SRA and TBRA programs in July 2016. In August of 2017, NWAK was asked by HUD and Anchorage Coalition to End Homelessness (ACEH) to assist in the administration of the last year of an Anchorage Community Mental Health (ACMHS) Permanent Supportive Housing program. This program, once it ended, was transformed into the RISE program July of 2018. In October 2018, NWAK volunteered to administer a YHDP Host Home program (partnering with Choosing Our Roots, and also become a partner with Volunteers of America Alaska in the YHDP Permanent Supportive Housing Program. To assist in the mitigation of COVID-19 NWAK applied for funding in 2021 to provide new participants on our programs with emergency shelter vouchers for motels. We started working with the State of Alaska in 2021 to provide disaster relief assistance to residents of Forest Park Mobile Home Park in Chugiak AK.
 WHY PERMANENT SUPPORTIVE HOUSING WORKS:
Supportive housing combines non-time-limited affordable housing assistance with wrap-around supportive services for people experiencing homelessness, as well as other people with disabilities. Study after study has shown that supportive housing not only resolves homelessness and increases housing stability, but also improves health and lowers public costs by reducing the use of publicly-funded crisis services, including shelters, hospitals, psychiatric centers, jails, and prisons.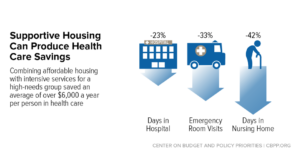 NeighborWorks Alaska offers three subsidized Permanent Supportive Housing programs:
NeighborWorks Alaska participates in the Alaska Homeless Management Information System:
For more information on these Permanent Supportive Housing programs, please contact: